The Lovers Card – Till Death Do Us Part
According to the theory of the Tarot cards and the Kabbalistic sources and the wisdom of the mind and spirit of Jewish approach!!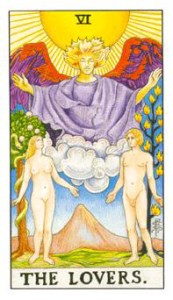 The Lovers Meaning is: Till Death Do Us Part – computerized card deployment guidance and training for two.
No one enters a relationship in order to destroy it. On the starting line of a relationship are two people with one common goal and succeed to achieve good marriage, compassion, consideration passion and love.
Those who enter should double to internalize and contain a number of things
A person who chooses to enter into a relationship must take on (100%) of full responsibility for the quality of the connection.
A person must create a stable life and loving relationship that requires the willingness to make sacrifices, compromises, paying attention, and putting the effort to create harmony.
A person must be willing to succeed in creating a relationship based on deep emotion and binding. Partners have to share something meaningful and create common interests.
Relationship is based on a constant process of fertilization. Not only insemination of material / physical, but also spiritual and especially fertilization.
Unfortunately nowadays divorce rate is extremely high. This process occurs because many couples simply do not know how to be and live as a couple. Remember!! – There is no successful pair that has the perfect formula to guide spouse. But proper maintenance of your matrimonial cell is a guarantee of satisfaction. So if you are wondering what you do to your matrimonial cell that exceeds the positive streaks of understanding, mutual respect and love? The answer could be based on the lover cards: Means until you get more in-depth counseling. It is important to remember that you need some healing and self-discovery to take place before your attract the success you desire.
No matter what ritual is done to help with your love, you still need to work on old programming's. emotional pain, anger, hurt and resentments, so you can succeed in your desired relationship.
Please remember this card is not a substitute for personal counseling individually and lengthily!!
Want to get a more detailed answer to your question? Contact me with your question and or concern with a lengthily detail so I can offer you the best solution that is possible
Consultation fee, and recommendations are free, however if you want me to help you with the final solution, you will be asked to pay for whatever materials needed.
"כי שפתי כהן ישמרו דעת ותורה יבקשו מפיהו כי מלאך ה' צבאות"
"יִהְיוּ לְרָצון אִמְרֵי פִי וְהֶגְיון לִבִּי לְפָנֶיךָ. ה' צוּרִי וְגואֲלִי"
"הָשִׁיבָה לִּי שְׂשׂוֹן יִשְׁעֶךָ וְרוּחַ נְדִיבָה תִסְמְכֵנִי"
כל טוב ואלוהים אתכם!!
 בענווה וברוח טובה